Solutions for Food and Beverage Industry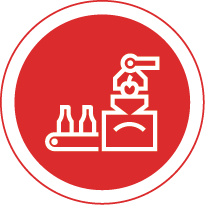 Customized solutions for applications in food and beverage processing
Food & Beverage is an industrial sector that plays a major role in the world economy.
Health and safety practices in the Food industry significantly impact on production processes. As such, we have been offering cutting-edge solutions for years now, enhancing the quality of technologies for pasta and food production in general.
Worm gearmotors
,
helical and bevel helical
,
coaxial
, and
planetary gearmotors
, and self-braking
motors
are some of the products designed by us for the specific needs of the Food & Beverage industry.
The major companies that manufacture machinery in the field choose to use our
gear reducers and gearmotors.
Find a solution that fits you
Rossi's experts have developed selection and calculation tools based on our knowledge