70 years of history
Rossi S.p.A. is turning 70 this year.
Italian company founded in 1953 by Gilio Rossi, who had the brilliant intuition to focus on gear reducers, mechanical components ubiquitous in industrial movements.

From a small craft workshop, Rossi soon grew and built his own headquarters in Modena.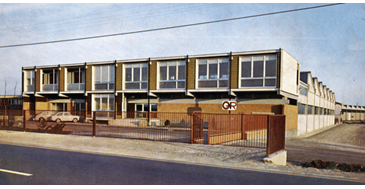 Rossi headquarters in 1953 - Modena, Italy
As early as the late '80s, Rossi began a gradual and uninterrupted expansion, first in Europe and later, starting in the '90s, internationally, now counting subsidiaries on all continents, with a total of 15 branches and more than 1,000 employees, and an expansion of the production range that to date, in addition to gearboxes, includes high-efficiency electric motors and motion control solutions.
In the mid-2000s, thanks to the acquisition by Habasit (now Moovimenta), Rossi experienced a new push toward growth through the development of an international, dynamic, and proactive mindset, open to change in the name of constant improvement, and attentive to environmental and social sustainability.
Despite the 2008-09 crisis and Covid, Rossi, thanks to the resilience of its employees as well as the versatility and high quality of its product, applicable to a wide variety of industries, has continued to invest in research and development, pursuing continuous improvement, inspired by its corporate values-ambition, ethics, pride, transparency, creative energy.

Rossi is launching two new product ranges in 2022: the new iFit series gearmotors and the new dDrive decentralized inverters. The iFit series consists of 3 different product types: coaxial, launched in 2022; bevel helical, being launched these days; and parallel shaft helical, planned for 2024.
iFit gearmotors are plug and play, meaning they can be directly integrated to different machines in a wide variety of applications without redesign costs and equipped with energy-efficient electric motors.
dDrive is the new decentralized inverter designed to be installed directly on electric motors with high efficiency, featuring compact design and high degree of protection, making it suitable for any environmental condition.
With these two new ranges, Rossi demonstrates an increasing focus on environmental sustainability and the well-being of future generations.

Coaxial and bevel helical gearmotors with dDrive

To celebrate the anniversary, Rossi has dedicated a special celebratory logo to the people who work there and to customers, to thank them and recognize the commitment, loyalty and determination they have shown over the past 70 years. In addition, celebratory events are planned throughout the year at all group locations.
The extraordinary development has been possible thanks largely to the commitment and dedication of the people who work at Rossi, and this 70th anniversary is dedicated to them.
Rossi is the people who work there, who are committed and proud to be part of this great company.

Rossi, on the other hand, has always attached great importance to its people, protecting their safety and encouraging continuing education and environmental sustainability.

"Rossi's success is a reality that has lasted for 70 years, and this reality is not only measurable in economic terms, but above all in human terms," says the CEO, "The commitment of our employees, the loyalty of our customers, the values that have guided the company's growth, and the quality and environmental certifications that have been obtained are the key factors that have enabled and continue to promote the pursuit of the goals of continuous growth and development."
Other articles