Solutions for an evolving industry
Gearboxes, gearmotors, motors and inverters
Find a solution that fits you
Metal

With 70 years experience in industrial gear unit manufacturing, Rossi supplies strong and reliable gearmotors to Metal Sector, confirmed by a 3 years standard warranty.

Mining

With 70 years experience in industrial gear unit manufacturing and 20 years devoted to Mining & Cement Sector, today Rossi is in the main EPC and OEM vendor lists.

The wide range of product types (bevel helical and planetary gear units, electric motors, couplings, etc) and sizes (up to 3,000,000 Nm), allows Rossi to supplying "state of the art" drives for all main applications of the sector.

Power Generation

Green transition requires products with manufacturing improved efficiency, proper of Rossi skillness and attitude.

Lubrication patented design helical gearmotors for ACC and or bevel helical gear units both with monolitic casing, CTI compliant, provides a full range of drives for Cooling Tower and ACC applications.

Food and Beverage

Food & Beverage is an industrial sector that plays a major role in the world economy. Safety and health practices in the Food industry significantly impact on production processes.

Therefore, we have been offering cutting-edge solutions for years now, enhancing the quality of technologies for pasta and food production in general.

Marine

Marine applications play a key role in the challenge for the energy transition.

Sustainable solutions for the extraction and distribution of "traditional" raw materials, together with innovative techniques for the production of green energy, require specialized and goal-oriented teams.

Construction

We deliver customized solutions in the Construction industry, starting from a standard product, in order to perfectly respond to the growing application needs of a sector that requires ever greater flexibility.

A wide variety of gearmotors and accessories make it possible to obtain reliable, tailored solutions, achieving cost-effectiveness for every application.

Industrial

From several years Rossi designs and produces custom solutions for the Industrial segment.

The range of our gearmotors is excellently tailored to meet a broad variety of specifications and our customers can rely on a full range of products that suit all their needs.

Chemical

Chemical plants must operate efficiently while meeting environmental standards. We will allow you to rely on a single partner for the entire range of products and services in the Chemical industry.

We assure specific, reliable, high-efficiency and low maintenance solutions, and gear units with proven performance, while reducing costs by optimizing processes and improving reliability while ensuring a high operating safety level.

Rubber & Plastic

The features that characterize the Rubber & Plastic sector require highly reliable gear reducers and heavy load capacity, often in difficult environmental conditions.

Our customers can rely on a full range of products that suit all their needs: reliable and customizable gear reducers and gearmotors capable maintaining high-performance levels even in small spaces.

Sugar

Rossi supplies cost effective, reliable and high-performance solutions for Sugar industry, with expertise on various sugar processes and applications. Our gear reducers and gearmotors can guarantee excellent productivity, energy efficiency and great customization capacity.

Thanks to our experience we have knowledge regarding needs and requirements of every stage of the process of sugar industry.

Waste & Water

Waste & Water treatment is a spearhead sector not only for the world economy, but for society as a whole.

Our skills in process engineering encompass all the aspects of separation in the water sector, including sewage water treatment, the disposal and recycling of solid waste, thanks to a vast range of gearboxes, gear reducers, gearmotors.
PRODUCTS
Discover our product range
Industrial Gear Units
A wide range of gear reducers, combined with a high level of engineering expertise, decades of experience...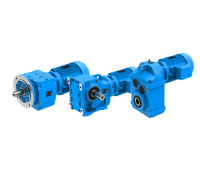 Gearmotors
If compared to those on the market today, Rossi boosts one of the broadest ranges of gear reducers and gearmotors...
Electric Motors
Satisfy all the customers' requests, assuring a high-quality standard: this is the permanent objective of our skilled department...
Motion Control
Decentralized inverter, designed to be installed directly on Rossi high-efficiency electric motors with gearboxes...
Other Products
One of the most complete product ranges on the market allows us to choose gear reducer or gearmotor that best suits you...
Stay connected with us