History and evolution of the Rossi logo
Evolution as a common thread
A company logo is one of their most important visual representations, and is often used as a symbol of recognition and communication for customers and the general public.
Over the past 70 years, the Rossi logo has evolved, as has the company.
50s
At the beginning of the 1950s, the logo featured a pictogram made up of the initials of the founder (Gilio Rossi) and a gear; one of the fundamental components of gearmotors. Complementing the logo was a logotype referring to the company name. The use of the Sans Serif font type underlines the avant-gardeness approach that Rossi Motoriduttori already had in the first years of its foundation.

Over the years this logo has been modified. The black colour has been replaced with grey, which is less aggressive and, from a flat style, we have moved on to using the gradient to create a sense of movement.

2000s
In 2012, Rossi joined the Habasit Group, world leader in conveyor belts and transmission belts, today known as the Moovimenta Group.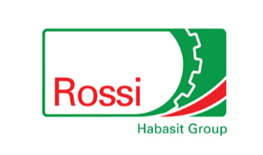 In accordance with the coordinated image of the group, Rossi modified its logo which appears sharp and with a marked contrast between green and red which makes it easily distinguishable and legible.

2019
A new corporate identity comes to life.

In 2019, Rossi introduced a new logo as a result of a renewed image to express the values and characteristics of a dynamic company projected towards the future.
The new brand is part of Rossi's business strategy and the new positioning that defines the company as dynamic, flexible, sustainable and avant-garde, and places the customer at the centre of its approach.
The visual identity identifies the new vision: an energetic and creative sign, an "R" which, in addition to being the initial of the name, represents the power of ideas, dynamism and technological innovations. Next to it, a payoff "Solutions for an evolving industry", Rossi's DNA, which accompanies it and translates the company's philosophy: flexible and innovative solutions for a constantly evolving industrial world.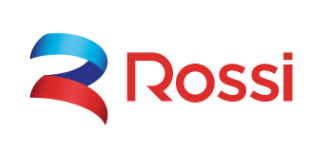 SPECIAL LOGOS
2023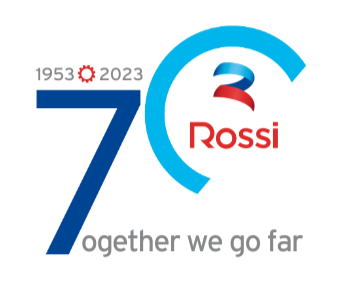 The creation of an An ad hoc logo celebrates the occasion of the seventieth anniversary of 2023.
Company and People. These are the two main focuses of the new logo dedicated to this milestone:
• The zero of the number "70" is deliberately open and gives a sense of dynamism. Rossi's story isn't complete yet and the journey will be long and successful.
• The "7ogether We Go Far" pay-off is a way of thanking everyone involved in the 70-year history.
Other articles